About Dorset LPG
Our team of LPG engineers are some of the most experienced in the country and are approved by the UKLPG http://www.drivelpg.co.uk/approved_installer.php. They have received the best training possible from the LPG system manufacturers.
We are totally committed to providing you with the highest quality LPG conversion. As an approved LPG company we use only very best LPG systems. All conversions are completed in accordance with the UKLPG's COP 11 standard and all equipment used is to the required British and European standards.
We also have full servicing and diagnostic facilities for both petrol and LPG, thus offering you the considerable advantage of a one-stop service centre.
For further information on LPG conversions, servicing, quotations or assistance with Powershift grants please contact us on: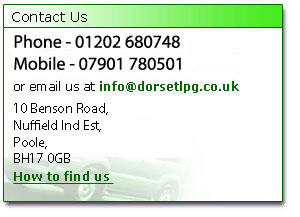 Find us via Google :
View Larger Map